Get the best side hustle idea that will make you money this 2019!
Digital product business is my all-time favourite business model.
Learning how to create and sell digital products completely changed my life for the best.
Selling digital products is the most profitable and long term business that anyone can do, as long as you choose the best strategies.
This is a billion dollar industry!
Digital Product is for anyone! Why?
It is easy to get started, you just need to have the commitment, passion and self-drive.
Easy to create and publish.
Little or zero cost to start.
Get the opportunity to sell your products internationally.
I will give you a completely free guide that includes step by step formula, that anyone can go about in order to launch a successful digital product to start making money online, thus generate passive income for you.
Be sure to read till the end of the post!
Why Should You Consider Starting A Digital Product Business?
Here are major advantages of starting A Digital Product business:
You get to be your own boss! – Get complete freedom.
It is a very flexible business – You can work from absolutely anywhere as long as you have a good internet connection.
Have the ability to earn passive income – digital products would help you to diversify your income.
It gives you the opportunity to create multiple passive income streams, that would eventually generate thousands of dollars each month.
Any person can start creating digital products that are worthy of sharing and selling online.
If you have skill, knowledge, talent, passion or even opinions, that you can share with the rest of the world, then it won't be hard while starting out in the digital product business.
So What Is Considered A Digital Product?
The following is a list of digital products that you should be aware of before you start your digital product business:
eBook.
Software.
Video.
Audio and music.
Photography.
Graphics and design art.
Documents.
Courses.
Professional Services.
Tickets.
Fonts.
Web-based applications.
So what will you start selling today?
Before you jump on to deciding what exactly you want to create, I want to share very important information with you on this blog post, that will guide you in everything that you need to know today, for you to be successful in the digital product business.
How Do You Create Your Own Online Digital Product?
The following are 5 steps to successfully launching a successfully profitable digital product that I highly recommend you to follow;
Validate your idea.
Before coming up with a digital product you must first make a point of carefully validating your idea.
Why?
There are thousands of online self- published books on Amazon that have sold very few copies and others none at all, why? – Because the authors failed to take their time in this important step!
Validating your idea means that you should do research on your target market even before you begin creating your digital product.
Doing this will prevent you from devoting all your energy and time in building a digital product, that nobody actually wants.
You can start off by using some free research tools such as;
Google Keyword Planner – To help you analyze monthly search volume of your main keywords, plus it will help you project how competitive your specific keywords are on your chosen niche.
Google Trends – This also helps you see the popularity of specific keywords over a defined period of time.
Join online forums – Here you will get the most asked questions, what are people mostly talking about or show the most interest in.
Start experimenting process.
You can start by providing a free small volume of digital products.
Proceed by setting up a good landing page on your website, so that you are able to collect an email list of those who show interest.
By doing this you will also get a hint of what many people are showing more interest in.
The most important thing that you should do while experimenting, is allowing people to download the digital products so that they can leave their email address behind.
High probability is that they will be among your most loyal customers in future, so do not feel bad giving out something for free. It's worth it!
After you get a good number of email subscribers, make sure to follow these strategic phases in building your next eBook:
Present a problem for your audience.
Agitate the problem.
Deliver a solution to the problem through your digital product.
Build your audience with free content.
You can do this by setting up a blog and start posting high-quality content.
Read here: The ultimate guide on how to create an effective blog that makes you money.
You can also begin guest posting.
In order to be a pro in this, you should read this post on How to exploit the power of seduction to create viral content.
Doing this you will certainly get lots of free traffic thus increasing more sign-ups and subscribers leading to customers!
Create your first digital product!
After you have completed these steps, you will be sure to have obtained a small community and regular traffic to your blog, thus giving you time to now build a great digital product and have the opportunity to get early feedback on your digital product.
After you complete creating the digital product you will need to figure out;
How much you want to sell it.
Come up with the best price depending on the value you share on your digital product.
Do not compare your prices with your competitors, but instead know your products worth by asking yourself one question, "If it was you, how much would you be willing to pay for it?"
How are you going to collect payments for your digital products?
Where will you store customer order details?
Incorporate Product feedback.
If you want to succeed and begin earning passive income from the digital products you need to want to listen to your audience's feedback.
This way it would be easier for you to upgrade your digital product and your customers will be more interested in purchasing your next product.
Continue testing and multiplying your success with that digital product until you feel it's time to start creating the next digital product.
You should always keep in mind that no matter what you are selling, the key is always to provide value and sooner or later you will be the next big thing in this industry.
Where Can I sell my digital products?
Before you go online to Google where to sell the digital products, you need first to know the most important features that a good digital product selling platform should have.
They include;
Have powerful file delivery and digital storage.
What does this mean?
This means having a system that automatically sends users with email links right away after they make a purchase.
They also should provide an easy way to store your digital files and an unlimited amount of storage for your files.
Allows you to integrate with top payment gateways.
Having different options of payment gateways such as PayPal, Stripe, Authorize.net and more would provide you with more options for selling.
However, having a platform that allows you to connect with only PayPal and Stripe can also do the trick.
Has a clean shopping cart.
A clean shopping cart is one that includes the following;
It is easy to make a purchase at the checkout, without going through many processes before finally making a purchase. (Has minimal steps).
There are no ad popups, thus creating minimal distractions for the customer.
Has great customer management.
Being able to see which customer visited your site, and those who purchased your digital products will really help you in conducting targeted marketing, thus helping you mould your future sales strategies and marketing.
It will also help you in handling various customer complaints.
For example, if a customer complains that they were overcharged you will be able to go back to verify if it is indeed true.
Allows you to have total access to your digital files.
Having total control will help you maintain control over your downloads thus preventing people from;
Stealing your product.
You can configure your products expiring dates for the customers who have purchased, so as to prevent users from downloading the digital files multiple times.
Prevents unauthorized access.
Here's a list of 4 best platforms to sell your digital products effortlessly.
DPD. 
This is an easy to use digital publishing platform, that allows content creators to sell downloads and deliver digital contents such as eBooks, themes, software, graphics, music and so much more.
It gives you a 30-day free monthly trial.
It is very affordable, you can begin selling your digital products with as little as $10.
How does it work?
1. You simply create and upload your product on DPD. 
Their servers are fast and reliable, therefore it won't take much of your time uploading.
2. Then just copy paste the add-to-cart button on your blog, website, Facebook e.t.c.
3. When a customer purchases any of your product the money goes directly into your payment processor. All money is yours there are no deductions.
4. The customer receives their digital product immediately after purchase.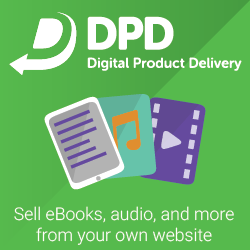 Click Here For More Info On DPD.
2. Selz.
Selz gives you a free plan and if you decide to pay for an upgrade you get a 14-day free trial with no credit card required.
Selz allows you to create your own managed beautifully online store which comes with:
Custom domain name.
Drag and drop store builder, which makes it very easy for anyone to create a store.
Free website themes.
Built-in blogging platform. So you don't need to set-up a blog elsewhere.
It comes with a free SSL Certificate for all your pages on your online store.
2. With Selz, you can sell from anywhere.
Sell on your Facebook, by creating a fully functioning Facebook store.
Sell from your website, blog and social sites.
It allows you to add a customized buy button, embedded store and widgets so that your visitors don't have to leave your website in order to make a purchase.
Your customers will have a beautiful checkout experience right from your site!
Click here for more info on Selz.
3. Sellfy.
Sellfy offers 14-days free trial. Their payment plans start from $29/month.
Selfy comes with:
A customized online storefront.
Can be embedded in any website.
Has a built-in email marketing.
Gives you advanced analytics.
Get instant payouts.
Offers coupons and upsells.
Click here for more info on Sellfy.
4. Sendowl.
Sendowl offers a 30-day free trial (no credit card required).
Its pricing starts from as little as $9.
With Sendowl all you have to do is create your digital product, then Sendowl will:
Integrate them with different payment gateways.
Create a conversion optimised checkout.
Ensure automated digital delivery.
Then you get paid!
Here's why I love Sendowl:
Anyone from anywhere can have an easy time buying since it has the multi-language feature which greatly improves conversion.
Has a wide variety of payment options including Bitcoin, Apple pay, Paypal and you can also pay with your credit card.
You can sell from anywhere, be it social media, through email, your website or blog e.t.c
The best of all is that you can find affiliates to promote your digital products through their in-built affiliate system.
Click here for more info on Sendowl.
If you found this article to be interesting then high probability these other articles will definitely interest you.